We are here to help you with your trip from Larne to Cairnryan. We know how much hassle a ferry crossing can be, and especially when this is your first crossing you need to know how the check-in works, what you can expect and if you're allowed to bring your extra large LPG fuelled motorhome on the ferry.
Did you also know that when you reach Larne you can easily travel forward to Belfast? A perfect place to start your holiday! Also WiFi is for free on this connection, not all ferries got a free WiFi so that's handy!
The Ferry (European Highlander) – the ferry was great. Lots to do, plenty of seating. We enjoyed a nice meal in the cafe and then upgraded our ticket to the club lounge (this is £12 if pre-booked for £13 each of you buy onboard). The club lounge seats looked more comfortable than they actually are – but it was fine. You get complimentary hot and soft drinks with a meal and bar service available. We thought the upgrade was worth the cost. While there is WiFi onboard, the speeds were terrible. Certainly not enough to stream video content. The good news is that (with EE in our case) there is a constant 4G connection throughout the entire journey. No need for WiFi if you have data. There was a free cinema onboard with really comfortable reclining seats too!

Source: Tripadvisor
Larne to Cairnryan ferry prices
If you are travelling to Larne or Cairnryan with a standard vehicle and +/- 2 passengers, you can expect prices from € 300 to € 550 for a retour ticket. All depending on the availability of course.
Booking early is really a thing with ferries..
Two try-out bookings we made from Larne to Cairnryan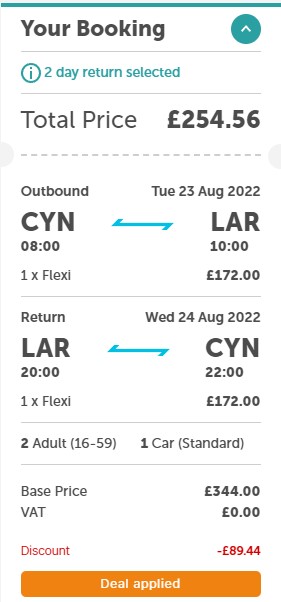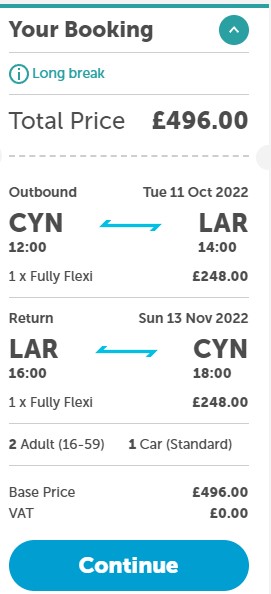 Booking to Cairnryan
There are two options to book your trip with:

Booking with P&O Ferries
Booking directly with the operator of the line
The possibility to book flexible and club lounge tickets
Exclusive offers, promotions and competitions
Booking with Ferry Comparison Website:
Compare the different alternatives and prices.
See alternative lines and various options.
Whichever option you take, make sure you find out if you need cancellation protection or not. When you book make sure the ticket reflects this need in a good way. If you are unsure: then do pick the more expensive tickets that you can cancel. A lot of low ratings come from people not being able to refund tickets. Don't be one of them!
Arriving at Cairnryan

For starters: You can't miss the ferry connection, it's just a roll-on ferry terminal. If you want to go to Larne, you need to follow the routes towards the P&O Ferries terminal.

Things that might be useful to know:

There is not so much to do outside besides the harbor, it's super easy to park. And there are also free options.
There is a small bar nearby named 'Thistle Heights' about a 2 minute walk from the P&O ferry terminal. Don't expect to much though! =)
Larne Harbor

Larne is a bit bigger and there is more to do. After you arrive you almost crash into a McDonald's. that's a nice way to start your holiday =)